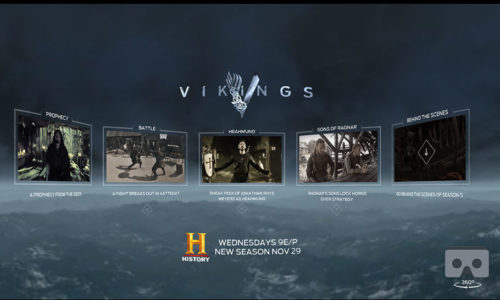 Vikings is a hit Television series featured on History Canada. Moves Media worked with Corus Entertainment, Take 5 Productions, and Thinking Box to create one of the first live action 360 video experiences for a major series. We filmed and directed the following scenes on Vikings set in Ireland:
A vow of vengeance by Bishop Heahmund (Jonathan Rhys Meyers)
An argument between Ragnar's sons about their army's next move
A prophecy from the Seer
An intense battle in Kattegat
Behind-the-scenes feature
Our team was responsible for filming and directing each scene captured. We used a customized 360 video rig that would offer the best results for the desired output. The free Vikings VR app became available on Android and iOS. The experience puts viewers right inside the action, alongside some of fan's favourite characters from the hit HISTORY television series.
The app is available for free download at the links provided:
A vow of vengeance by Bishop Heahmund (Jonathan Rhys Meyers)
Step inside the world of Vikings with this 360 video. Meet Season 5's Heahmund, a warrior bishop played by Golden-Globe winning actor Jonathan Rhys Meyers.
Explore The Seer's mystical and intricate lair, and be given a prophecy.
Witness an intimate war strategy session between Ragnar's sons including Ivar (Alex Høgh Andersen).